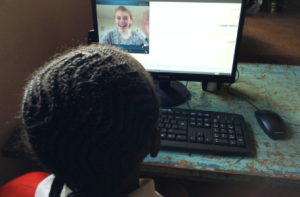 An award winning "TED talk" by Prof. Sugata Mitra inspired the EDCLUB initiative. His project empowered kids in low-income areas in India to self-educate, by providing them with computers and Internet access. This opportunity encouraged the kids to explore and learn.
In 2013, a group of students at Marlborough College – Molly Macaire, Lucy Sherriff, Maeve Mahony and Jemima Jones – decided to set up a pilot project in Huruma Slum, Nairobi. They raised the funds and put computers and a Skype link into the chapel in order to put into practice Prof Mitra's 'SOLE' (Self Organised Learning Environment) concept.
This was made possible by the fact that one of the group of students, Molly Macaire, had lived in Kenya and had worked closely with the community: there was already a relationship of mutual trust with the community leaders, and a connection with the local kids.
After a successful pilot, and a community consultation with the local stakeholders, funds were raised in the UK to construct a purpose built computer lab for the project in the slum.
Internet access was secured through negotiation with a leading Kenyan Internet service provider. Suitably robust computers with low power consumption were identified and sourced by a local provider (Aleutia computers supplied by Stonehouse Ltd: info@stonehouse.co.ke).
The original mentors promoted the EDCLUB concept through giving talks at other schools and social media. As knowledge of the movement expands, a wider range of mentors continue to join the initiative.
Schools and Colleges attended by mentors:
Amsterdam International Community School
Benenden School
Bradfield College
Bryanston School
Downe House School
Eton College
Harrow School
Kingswood School
Marlborough College
Milton Abbey School
Oshwal Academy, Kenya
Radley College
Roedean School
Sherborne Girls' School
St. Bart's School
St. Mary's School, Calne
St. Swithuns School
Wellington College